2018 Department Newsletter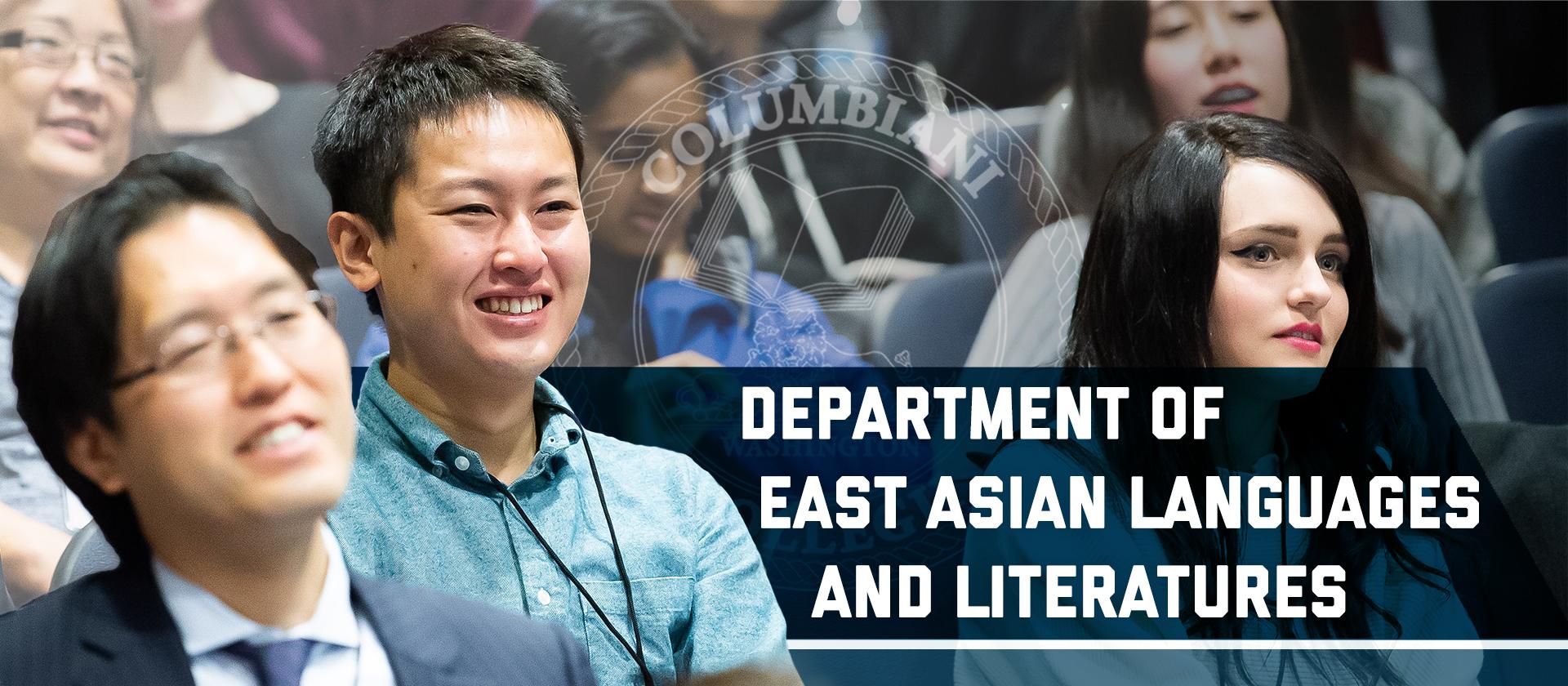 Message from the Chair
Program Spotlights
Program Kudos
Alumni Updates/Class Notes
Donor Recognition 
Support the Department
Stay Connected 
Message from the Chair
Shoko Hamano
Chair, East Asian Languages and Literatures Department
Greetings!  
This fall marks an important milestone in the department's history. We have welcomed Professor Immanuel Kim, a specialist in North Korean literature, to our faculty. His position was created thanks to the fundraising effort of Professor Emeritus Young-Key Kim-Renaud and the generous support of the Korea Foundation. Immanuel's arrival fills a longstanding gap in the Korean Language and Culture Program. We look forward to the launch of the Korean major in a very near future.  
The department continues to organize various academic events. The 26th Hahn Moo-Sook Colloquium is scheduled for November 9-10, 2018. The J.LIVE Talk 2018 Japanese speech competition is scheduled for November 11. We will also continue to present a number of talks as part of the Kim-Renaud East Asian Humanities Lecture series. Please check our website for specific events.  
Looking forward, we would love to help you become more involved in our academic life and future events. Last year, we invited Associate Professor of History Michael Wert, BA '77, of Marquette University to speak to the department. This year, Dr. Richard Pegg, BA '83, MA '90, the director and curator of Asian art for the MacLean Collection, gave a talk, and Clark Munson, BA '03, director of projects at One Planet, will participate in J.LIVE Talk 2018 as a judge.  
We greatly appreciate your continuing interest in the Department of East Asian Languages and Literatures. Please let me know if you can talk to our current students about your profession, expertise, etc. And please stop by if you are in the D.C. area. We would love to see you at one of our events or just for a chat.  
Best wishes,
Shoko Hamano, Chair
---
Program Spotlights
The Korean Program Welcomes New Faculty
Two new faculty members joined the department this fall: Dr. Immanuel Kim, Korea Foundation and Kim-Renaud, Associate Professor of Korean Literature and Culture Studies, and Dr. Insung Ko, teaching assistant professor in the Korean language.
Dr. Kim received his PhD from the University of California, Riverside. He is an authority on North Korean literature and film and is the author of a recent book on North Korean literature, Rewriting Revolution: Women, Sexuality, and Memory in North Korean Fiction (University of Hawaii Press, 2018).
Dr. Ko received his PhD from University of Hawai'i. His research interests include Korean linguistics, second language pedagogy, phonetics and language testing. He brings with him a track record of having built a very successful Korean program at Washington University in Saint Louis.
New Faculty Books
This year, several faculty members published new books! Professor Jonathan Chaves wrote Cave of the Immortals: The Poetry and Prose of Bamboo Painter Wen Tong (1019-1079) (Floating World Editions). Professor Hang Zhang published Second Language Acquisition of Mandarin Chinese Tones (Brill). And Professor Hongyuan Dong's book, Semantics of Chinese Questions: An Interface Approach (Routledge) is forthcoming in December.
J.Live Talk Wins Another U.S.-Japan Friendship Commission Grant
J. LIVE Talk 2018 is scheduled for November 11. Supported by a major grant from the US-Japan Friendship Commission, the college-level Japanese language speech competition, was first held in 2015 at GW.  
Since its inception, the competition has expanded its scope. Previously, winners in lower categories were awarded scholarships to study in Japan. Beginning this year, the winner of the highest category will also participate in a summer intensive program in Japan thanks to the generous support of International Christian University in Tokyo.  
Read about last year's J.LIVE contest in the CCAS Spotlight newsmagazine.
---
Program Kudos
Anri Yasuda became a mother this spring! Her article "The Fashion Statements of Dazai Osamu: Sartorial and Literary Expressions of Gender in Wartime Japan" was published in the Journal of Popular Culture in December 2017, and she won a Columbian College Humanities Facilitating Fund award for the 2018-2019 cycle.
Hang Zhang published a book titled Second Language Acquisition of Chinese Tones—Beyond First-Language Transfer (Brill, 2018). This research monograph brings together theory and practice by examining non-native Chinese tone productions in view of cross-linguistic studies. She also published a research article "Asymmetries in Second Language Acquisition of Chinese Contour Tones" in the Journal of International Chinese Teaching (2017).
Hongyuan Dong has been awarded a Columbian College Facilitating Funding for his research project on a Bayesian approach to natural language semantics and pragmatics (2018-2019). He also won an internal competition for a National Endowment for the Humanities summer stipend for his book project on the history of language policy in China. He is teaching a new graduate course on Chinese Semantics this semester by incorporating research from his upcoming book Semantics of Chinese Questions: An Interface Approach (Routledge, 2018).
Jonathan Chaves gave a reading of his translations of Wen Tong (1019-1079) as well as his own original poems in April at the D.C. Public Library. He also provided the translations for the kanshi or Chinese poems in Stephen Addiss, "Forgotten Masters: Japanese Literati Painters in the Meiji Flux," Orientations, March/April, 2018. He was interviewed by Poet Charles Rossiter about his translations of Chinese poetry.
Liana Chen gave a talk on "Portraying the Miao in Imperial China" in the Textile Museum's "Textile at Twelve Lecture Series" in February. She was the panel chair and organizer of "Connoisseur-Researchers, Musical Notations and the Shengping Shu Archive: "Establishing Chinese Drama Studies as a Field of Knowledge in Early Twentieth-Century China" for the annual convention of the Association for Asian Studies in March. In April, she finished her first half-marathon in 2 hours and 20 minutes.
Shoko Hamano was a summer fellow at the National Humanities Center in North Carolina. It was a very serene environment tailored for research. Every day for four weeks, she reported to the center around 8 a.m., ate breakfast and then read, wrote or thought in her very quiet office till 4 p.m. (with a one-hour lunch break). It was, well, like a monastery life.
Takae Tsujioka presented "Instructing Communication Processes for Co-Constructing Conversation" at the 2017 ACTFL convention in Nashville with Tomoko Hoogenboom, and "He said, she said: The role of emotions in the instruction for cohesion" at the 2018 Association of Teachers of Japanese Conference in Washington D.C. At the 2018 Southeastern Association of Teachers of Japanese Conference in Tampa, she reported on J.LIVE Talk 2017, for which she served as the executive director. She was also the co-president of Mid-Atlantic Association of Teachers of Japanese. She was nominated for the 2018 American Association of Teachers of Japanese Teacher Award.
Chen Yang has sat on college program and course review committees at the American Council on Education (ACE). He has also conducted reviews for such organizations as the Defense Language Institute, the American Council on the Teaching of Foreign Languages, Berlitz and many universities and colleges since 1996. During summer 2018, he was invited back by ACE and reviewed the Defense Language Institute's Advanced Chinese Program.
---
Class Notes
Teal Bradley, BA '13, has been in Chicago for a little over six years and has recently become the GM of a brand new luxury boutique hotel just a block away from Wrigley Field. Go Cubs!
Xavier Brodnax, BA '17, is pursuing an MA in translation and localization management at the Middlebury Institute of International Studies at Monterey.
Maegan Burkhart, BA '16, is living in Shenzhen, China, where she works in marketing for a quality control firm. She's (still) studying Mandarin and enjoying the ongoing challenge of living abroad in China.
Xinyun Dai, BS '18, is currently a graduate student at University of Washington, Seattle.
Pengli Li, BA '13, is an attorney at Cooley LLP.
Jinwen Lu, BA '17, passed N2!! (160/180)
Clark Munson, BA '03, lives in Pittsburgh with his wife, Alison Alvarez, BA '03, managing translation projects. He reads Japanese novels every day—lest he betray the blood, sweat and tears of Professor Hamano.
Hauwa Okorie, BA '10, is living and working in Lagos, Nigeria. She's a research consultant applying behavioral science in solutions to alleviate poverty.
Molly Page, BA '18, visited Japan this summer with her internship at the Japan-America Society of Washington, D.C., and worked there as a KAKEHASHI project trip chaperone and media correspondent. Now she is attending film school and working on her MFA in film and media arts!
Todd Platek, BA '74, practices commercial and immigration law in New York City, exclusively serving the worldwide Chinese community in areas of investment, political asylum and corporate litigation.
Marguerite Wedeman, BA '16, recently began a new job as director for Federal Government Affairs at the Partnership for New York City.
---
Donor Recognition
The Judaic Studies Program would like to gratefully acknowledge the following generous donors who made a gift to the program from July 1, 2019–December 31, 2020.
+ Faculty/Staff | # Parent | ~ Student | * Friend
THANK YOU FOR YOUR SUPPORT!
The East Asian Languages and Literatures Department would like to gratefully acknowledge the following generous donors who made a gift to the department from July 1, 2017 – June 30, 2018.
Congressional Hispanic Caucus Institute, Inc.
Alison Susan Alvarez, BA '03
COL Frederick T. Barrett, USA Ret. BA '64, MS '72
Christian M. Bohorquez, BA '18
Louis Caldera *
Tema W. Encarnacion, BA '00 
Ian Robert Everhart, BA '14
Giovanni Gutierrez, BA '95, MPA '07
Dr. Shoko Hamano +    
Jay Harder +
Andrew C. Herron, BA '04
Donald P. Kamentz, BA '94
Synja Kim *   
Dr. Young-Key Kim-Renaud +
Joan Marie Klask, MBA '84
Dr. Stephen J. Malpezzi, PhD '86, MA '79
Dr. Gustavo A. Mellander, PhD '66, MA '60 
Clark Melton Munson, BA '03
Hye-Jah Oh *     
Todd Leslie Platek, Esq., BA '74
Morgan A. Rana, BBA '16
Dr. Bertrand Renaud *    
Trevor James Robbins, BA '12
Mark J. Schaefer, BA '17
Seung-Hoon Shin, MBA '15  
Frank J. Shulman *    
Melanie B. Tekirian, BA '91
Yuan Xue ~  
---
Support the Department 
Gifts to the Department of East Asian Languages and Literatures allow us to provide support for faculty and student research and travel, graduate student fellowships, and academic enrichment activities including guest speakers, visiting faculty, and symposia. Each gift, no matter how large or small, makes a positive impact on our educational mission and furthers our standing as one of the nation's preeminent liberal arts colleges at one of the world's preeminent universities.
You can make your gift to the department in a number of ways:
Securely online.
By mailing your check, made out to The George Washington University and with the name of the department in the memo line, to:
The George Washington University
2033 K Street NW, Suite 300
Washington, DC 20052.
By phone by calling the GW Annual Fund at 1-800-789-2611
---
Stay Connected
Connect with alumni in your industry through both virtual and in-person networking programs. 
Get involved with several opportunities from mentoring students to engaging with fellow alumni. 
Connect with the larger GW and CCAS community through LinkedIn!