2022 East Asian Languages and Literatures Newsletter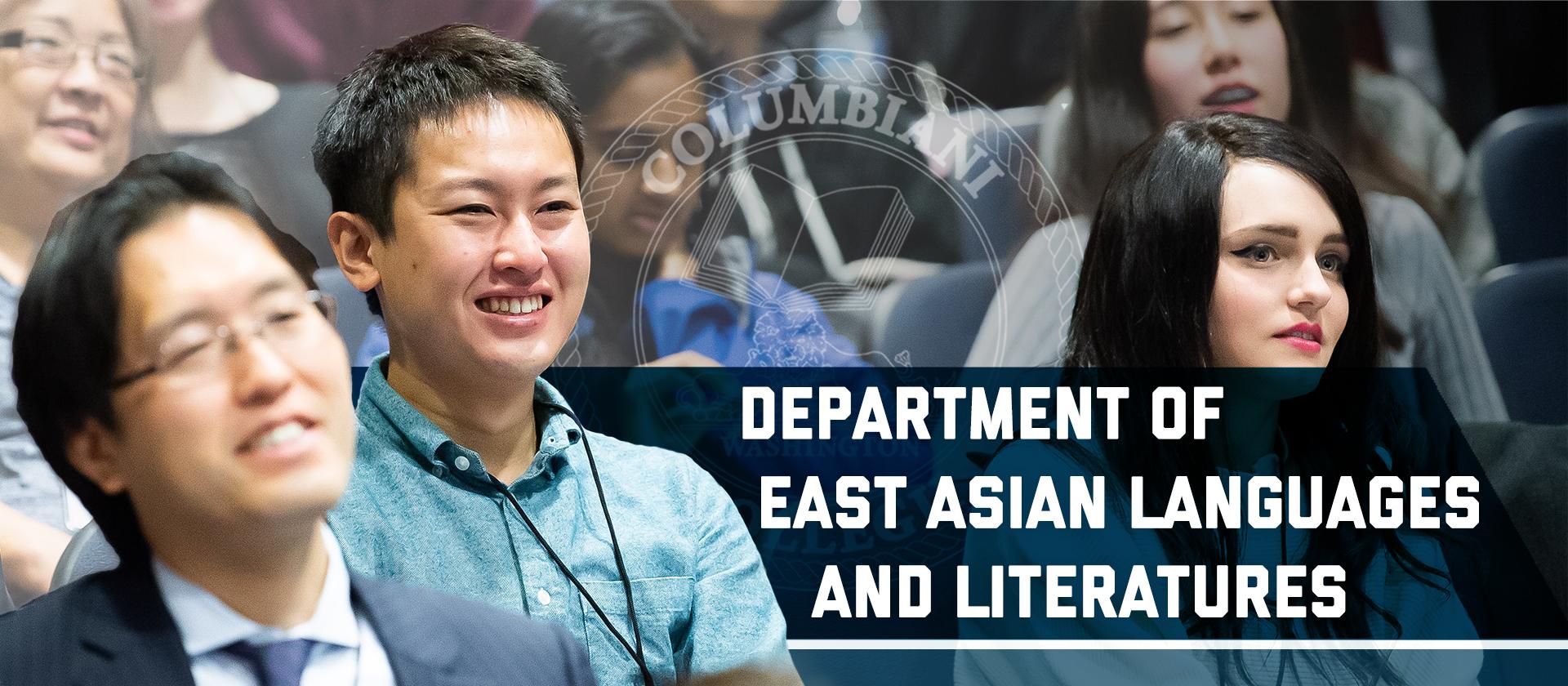 Message from the Chair
Department Spotlights
Department Kudos
Alumni Class Notes
---
Message from the Chair
Greetings to all of our alumni from the George Washington University Department of East Asian Languages and Literatures! 
As acting chair of EALL, I want to thank my dear predecessor Shoko Hamano for her years of outstanding service to our faculty and our department. She has made an impact in our department and university, and I hope to do the same.
Through this newsletter, you'll read about a few of the exciting things happening in the department, including the achievements of our EALL community and news from across Columbian College and the university. There are also some fabulous alumni events on the docket, and I hope you have the opportunity to attend one of them and engage with fellow graduates.
Thank you so much for your support and involvement. Please stay in touch.
Sincerely,
Immanuel Kim
Acting Chair, Department of East Asian Languages & Literatures 
---
Department Spotlights 
Keti Vutipawat (student assistant), Matthew Lepis (student assistant), Haruka Satake (MC), Ellis Davis (student volunteer), Prof. Shoko Hamano, Prof. Takae Tsujioka, Prof. Wakana Kikuchi, Prof. Brendan Morley, Prof. Kaori Iwai, and Nicholas De Valpine (MC)
J.LIVE Talk 2022 Delivered as Hybrid Event
On November 13, the Japanese Program hosted the 8th annual J.LIVE Talk (Japanese-Learning Inspired Vision and Engagement), the first-ever hybrid event of its kind. There were 74 applicants from 11 states and the District of Columbia selected for the first round of judging. The entire event can be viewed on YouTube, and the program is available online.
Of the 12 finalists selected through a rigorous first- and second-round selection process, three high school students presented online and nine college finalists presented in person at the Elliott School of International Affairs. In addition, for the first time this year, the high school group category included a video competition with the theme "Our School and the Environment Surrounding It," and viewers voted for the top three schools selected in the preliminary screening.
GW students during a panel at the conference. Clockwise from top left: Annika Houge, Caroline Costello, Alexis Nothelfer and Julian Anderson
GW Leads Innovative Teaching on Chinese Characters
The first international conference on L2 Hanzi Teaching and Learning in the Digital Age was held virtually at GW during summer 2022, as the inaugural event in our "Advancing Chinese Teaching: Innovations, Outcomes, and New Directions" series.
The conference was a great success with 650 registrants from 15 different countries. Experts and professionals in Chinese teaching and research convened during this two-day event to share their common vision and goal to make it more efficient and effective for learners to attain digital literacy in Chinese, facilitated by new technological tools. The EALL Chinese program is a pioneer and leader in such pedagogical innovations in the past decade.
---
Department Kudos
---
Alumni Class Notes
Katherine Alesio, BS '21, is a civil engineering firm doing utility design and still studying Chinese in her free time.
Anna Day, BA '22, is studying at the Inter-University Center for Japanese Studies in Yokohama, Japan. She hopes to find IT-related work after graduating.
Tyler DiMicco, BA '11, lives in Beijing, China, where he is director of strategic product management and chief of staff to the corporate VP and managing director of Amazon Web Services, Greater China.
Tianyu Fan, MA '19, recently published three books of Chinese translations of works on creative writing: (1) 渴望写作 [The Desire to Write by Graeme Harper]. Beijing: Renmin University Press, 2022; (2) 剑桥创意写作导论 [The Cambridge Introduction to Creative Writing by David Morley]. Beijing: Renmin University Press, 2022; (3) 创意写作基础研究 [Key Issues in Creative Writing by Dianne Donnelly and Graeme Harper]. Shanghai: Shanghai University Press, 2022.
Elizabeth Heller, BA '10, worked with an education nonprofit in Beijing, China, for three years after graduating from GW and is now with an international development consulting firm in D.C.
Todd Platek, Esq., BA '74, published his first novel, G88, which can be found via his website.
Alice Rees, BA '21, is a coordinator for international relations in the prefectural government section Toyama Prefecture, Japan. This year, she served as a translator and interpreter for sister state exchanges between Toyama and Oregon.