2021 East Asian Languages and Literatures Newsletter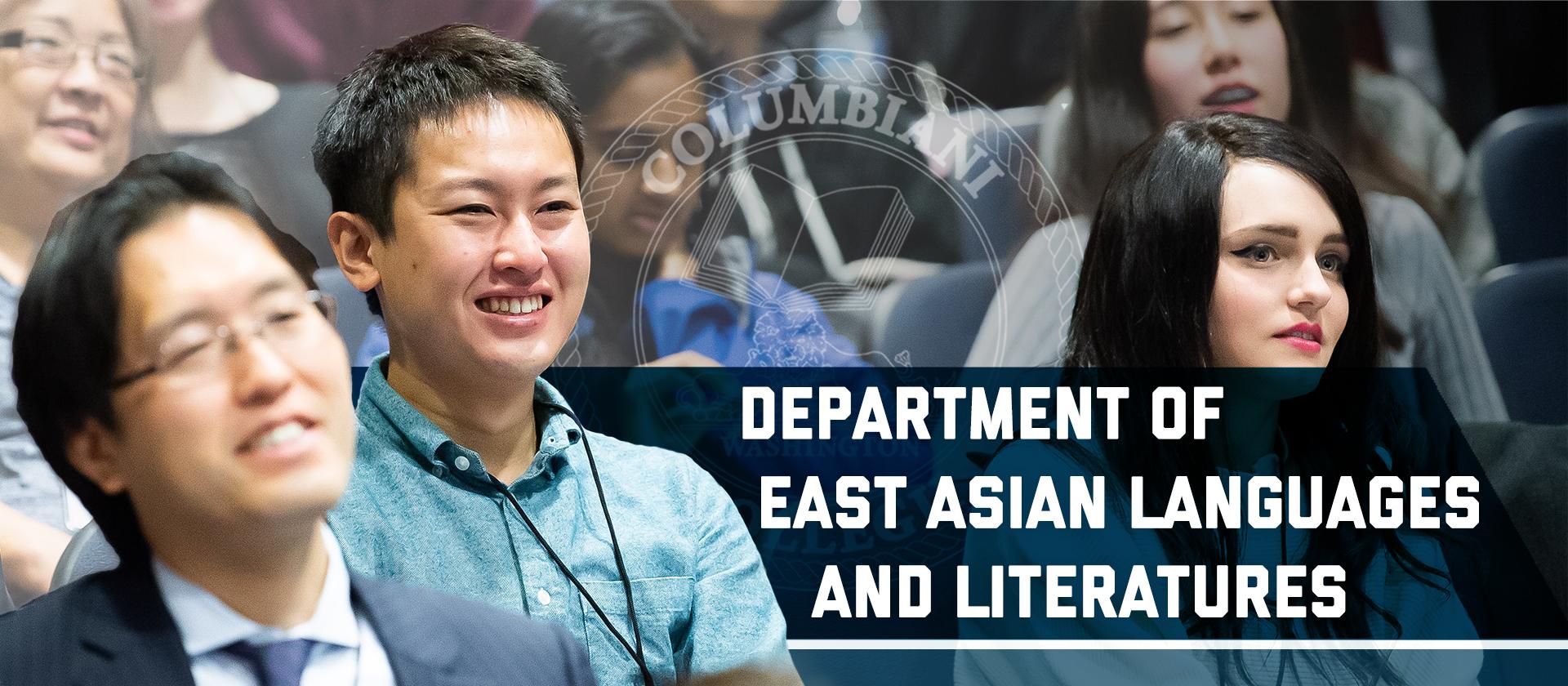 Message from the Chair
Department Spotlights
Alumni Class Notes
Faculty Kudos
---
Message from the Chair
Greetings to all of our alumni from the George Washington University Department of East Asian Languages and Literatures!
I am pleased to report that after an unusual year of remote teaching and learning, we are back on campus and once again enjoying the benefits of in-person engagement and collaboration. Throughout this newsletter, you'll read about a few of the exciting things happening in the department.
For the spring of 2022, we are organizing several lectures as part of the Kim-Renaud East Asian Lecture Series, and I hope you have the opportunity to attend one of them and engage with our faculty.
Thank you so much for your support and involvement. Please stay in touch.
Sincerely,
Dr. Shoko Hamano
East Asian Languages and Literatures Department Chair
---
Department Spotlights 
Shaina Adams (left) won the J.LIVE Talk high school division with her GW faculty mentor Professor Takae Tsujioka (right).
Sophomore Tappy Lung's winning design at the Hanguel Day Design Contest
Second Annual Hangeul Day Design Contest
The Department of East Asian Languages and Literatures' Korean Program held its second annual Hangeul Day Design Contest. This year's Hanguel Day Design Contest winner was sophomore Tappy Lung. Her intricate design spelled out the word "Washington" in Korean. Tappy used various D.C. monuments and buildings to create her award-winning design. The name "Hangueal" was coined by Korean linguist Ju Si-gyeong in 1912 and translates in English to "Korean Script." Hanguel Day is observed each year in South Korea on October 9.
---
Alumni Class Notes
Shelly Bagchi, BS '13, helped form a D.C. chapter of the Japan Society for the Promotion of Science's (JSPS) Alumni Association. If you were a JSPS summer scholar or postdoctoral fellow, please contact her to join.
Keith Bermudez, BA '17, is currently pursuing a master's degree in international affairs at the Columbia University School of International and Public Affairs. He will graduate in 2023 with a concentration in international security policy and a specialization in Mandarin Chinese.
Avonda Fogan, BA '16, is based in D.C. and works as the chief of staff at Strategy Risks, a firm that helps clients aiming to do business in China quantify their risks via customized research.
Nicola Licata, BA '15, has been in China for almost seven years. She was the first American at China's national champion milk company, Yili Group. She started on the factory floor, worked her way up to the international business unit, and is now in the solar industry in Shanghai.
Clark Munson, BA '03, works at Duolingo, managing the localization program.
Richard Pegg, BA '83, MA '90, is director and curator of Asian art for the MacLean Collection, an Asian art museum and separate map library located north of Chicago, Ill.
Todd Platek, BA '74, is a semi-retired New York lawyer handling cases for Chinese organizations and individuals. He is publishing G88, the first volume of a sci-fi trilogy about a Chinese-American project to jumpstart human evolution.
Alice Rees, BA '21, entered Japan in September after a long visa process and strict quarantine and began working as a translator for the prefectural (state) government of Toyama, which is located in central-west Japan. She gets to interpret the governor himself.
Emily Sou, BS '10, believes that Dr. Chaves had a large impact on her while she was at GW and she is appreciative of the EALL department and faculty.
Yuta Watanabe, BA '18, competed on the Japanese national basketball team in the Tokyo Olympic Games.
---
Faculty Kudos
The Chinese Program co-hosted the sixth biennial international conference on Chinese as a Second Language Research (CALSAR) from July 30 to August 1, 2021. You can read more about the successful virtual conference.
Liana Chen published her second monograph, Staging for the Emperors: A History of Qing Court Theatre, 1683-1923, with Cambria Press (2021). She was recently invited to give a talk on her book at the Taipei Kunqu Society.
Matt Coss' conference session at the Foreign Language Association of North Carolina was voted among the Top 10 presentations, earning him an invitation to present at FLANC's spring conference. It was titled "Learner-Centered Instruction: What? Why? How?"
Hongyuan Dong published the second edition of his book, A History of the Chinese Language, and was invited to write a review article for the Linguistic Society of America's journal Language. He was invited to give lectures at Georgia Institute of Technology and Ohio State University.
Shoko Hamano submitted "Idiophones in Japanese and Korean" to be included in The Routledge Handbook of Asian Linguistics, Chris Shei and Saihong Li (eds.). Routledge.
Alexa Alice Joubin received a GW Humanities Center fellowship and published Shakespeare and East Asia (Oxford University Press, 2021). She was interviewed in The American Journal of Chinese Studies article "Deconstructing Compulsory Realpolitik in Cultural Studies: An Interview with Alexa Alice Joubin."
Immanuel Kim published two journal articles: "Cultural Translation: Making North Korean Literature Speak English" in the Journal of the Korean American University Professors Association and "Translating and Translation Practices in 2021: An Interview with The Smoking Tigers," co-written with Robert Winstanley-Chester and Janet Poole, in the European Journal of Korean Studies.
Miok Pak published an article called "Third Person is Person too: Evidence from Honorific Constructions," co-authored with Pritha Chandra and Preeti Kumari in Tae sik Kim and Sunyoung bae (eds.), in the Proceedings of SICOGG: Comparative Approaches to the syntax-semantics interface.
Hang Zhang received the Humanities Facilitating Fund-FY22 for her book project titled Introducing Chinese Linguistics. She was recently invited to give a talk titled "Tone Sandhi and the L2 Acquisition of Tones" at the Symposium on Linguistic Theory and Language Education Research at the University of Wisconsin-Madison.