2019 Department Newsletter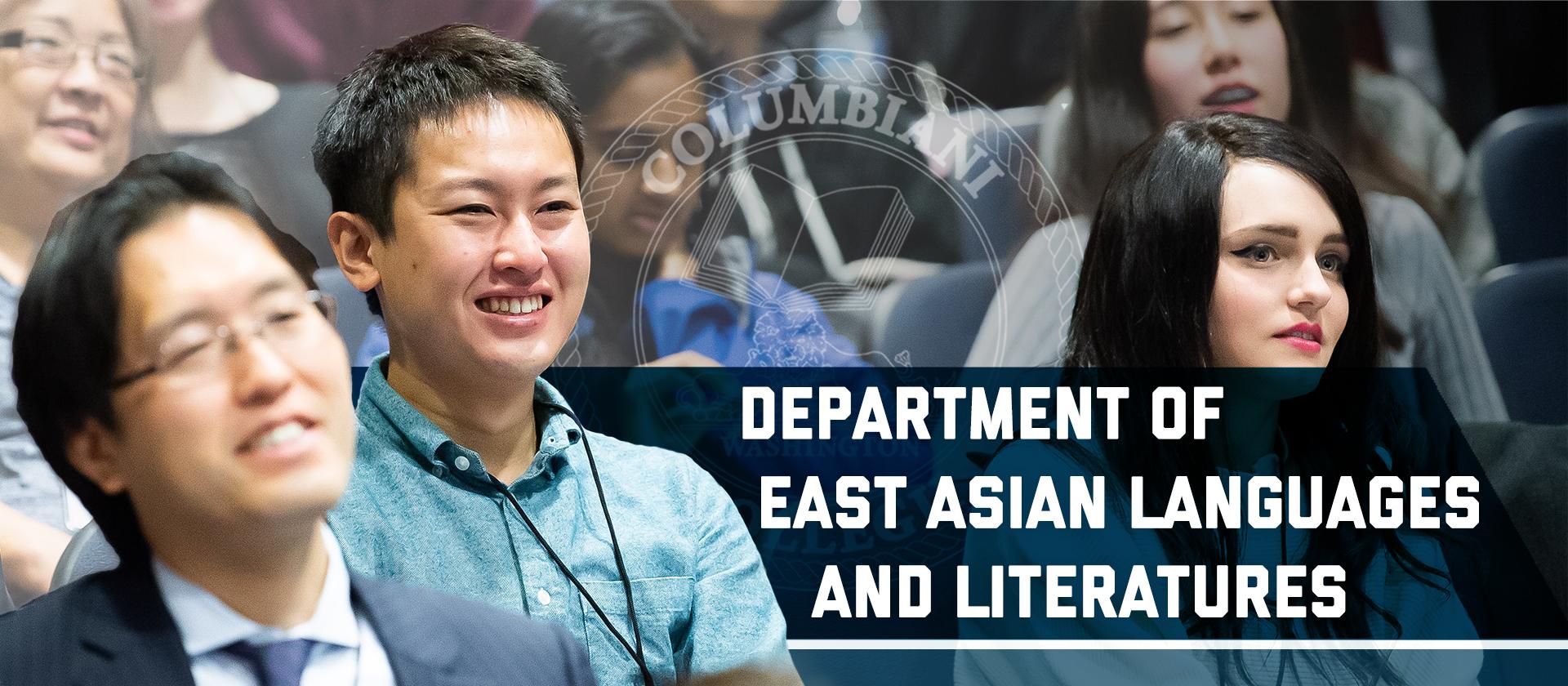 Message from the Chair
Program Spotlights
Program Kudos
Alumni Updates/Class Notes
Donor Recognition
Message from the Chair
Shoko Hamano
Chair, East Asian Languages and Literatures Department
Greetings!
This will be another active year for the Department of East Asian Languages and Literatures. The 27th Hahn Moo-Sook Colloquium is scheduled for November 2, 2019. The J.LIVE Talk 2019 Japanese presentation competition is scheduled for November 10, 2019. We will also continue to present a number of talks as part of the Kim-Renaud East Asian Humanities Lecture series. Please check out our website for specific events. In addition, we are part of GW's East Asia National Resource Center, which was established with a Title VI grant from the U.S. Department of Education. For the next three years, we will organize workshops and seminars and create new classes and online resources. For instance, the Chinese Program is organizing an international conference for the summer of 2020. We greatly appreciate your continuing interest in the Department of East Asian Languages and Literatures. Please let me know if you are interested in any of the special events or if you would like to talk to our current students about your profession, expertise, etc. And please stop by if you are in the D.C. area.
Best wishes,
Shoko Hamano, Chair
---
Program Spotlights
The Korean Major Begins
The department officially established the Korean major this fall semester. The Korean major came in such a timely manner with our students' increasing demand and the rapid growth of Korean studies nationwide. With the addition of four new courses (Advanced Conversation and Composition I and II; Introduction to the History of the Korean Language; and North Korean Society and Culture), we are excited to provide our students with an in-depth knowledge of Korea. This wonderful news could not have been possible without the enthusiastic and unfailing support from our alumni. The journey to having a Korean major was long, but it was worth it. Now, we look forward to developing a strong major/minor for our students. We hope that you will keep sharing our future journeys with us.
A Student Trip to Japan
Through the Japanese Ministry of Foreign Affairs' Kakehashi Program, 23 of our Japanese Program students visited Japan during the 2019 spring break. The cost of the trip was entirely covered by the ministry. The group was led by Assistant Professor of Japanese Language and Literature Leo Hanami and Professor of Geography Elizabeth Chacko. The group visited the city of Ohmi Hachiman, Shiga Prefecture, and participated in a one-night home stay in the town of Hino. They also enjoyed some free time in Tokyo. The home stay experience, in spite of its brevity, left them with an indelible memory of the warmth of the local people. Many tears were shed upon departure!
Chinese Program Leads Language Education and Research
More than 40 Chinese language educators and students from the Washington, D.C., area participated in our Chinese program's spring workshop on language teaching methods. It was the first in a series of workshops, with more planned for the next two spring semesters. The aim is to further strengthen our Chinese program's role as a regional leader in Chinese language education and research.
---
Program Kudos
Jonathan Chaves was a keynote presenter on a panel commemorating the late Wang Wusheng, one of China's greatest landscape photographers, at the China Institute in America. He also wrote the chapter, "The Message of the Mountains: The Yellow Mountains as Source of Inspiration for Painting, Poetry, and Photography" in the catalogue for an exhibition at the China Institute (New York) on modern Chinese landscape photography. Wang Wusheng was the exhibition's featured artist.
Liana Chen led a docent training workshop for the exhibition "Empresses of China's Forbidden City, 1644-1912" at the Freer/Sackler Museum. Along with Alexa Joubin and Ben Hopkins, she was awarded funding from the Taiwan Academy, Ministry of Culture, ROC, for the Spotlight Taiwan Project.
Hongyuan Dong was tenured and promoted to associate professor of Chinese language and linguistics. He conducted archival research in Beijing and Taipei in summer 2019 for his third book project—a history of language policy in China. He acts as the Chinese program coordinator now.
Shoko Hamano published  "Monosyllabic and disyllabic roots in the diachronic development of mimetic expressions in Japanese" in Iconicity and Language and Literature 16: Ideophones, Mimetics and Expressives, Kimi Akita and Prashant Pardeshi (eds.), and John Benjamins.
Alexa Alice Joubin published a new monograph titled Race for Routledge's New Critical Idiom series. Co-authored with postcolonial theorist, Martin Orkin, Race draws on culturally and historically diverse materials to examine the intersections of race and gender, whiteness, blackness in a global context and race in East Asian and other locations.
Insung Ko was elected to a three-year term as an executive board member of the American Association of Teachers of Korean (AATK) at the AATK 2019 Annual Conference.
Miok Pak (with Young-Key Kim) published a book titled The Routledge Course in Business Korean (Routledge), a textbook for mid-intermediate and low-advanced students to learn the language for business contexts in Korea. She also published a research paper with Paul Portner and Raffaella Zanuttini, "The speaker-addressee relation at the syntax-semantics Interface," in Language (2019).
Takae Tsujioka presented a paper at the Foreign Language Association of Virginia conference and co-presented a paper with Leo Hanami at Southeastern Association of Teachers of Japanese Annual Conference. Active in advocacy and community outreach efforts, she served as the co-president of the Mid-Atlantic Association of Teachers of Japanese and on the National Japan Bowl Committee. She was also the executive director of J.LIVE Talk 2018, which was reported by a major Japanese newspaper, Sankei Shimbun. She was promoted to teaching associate professor in the Japanese language.
Hang Zhang was tenured and promoted to associate professor of Chinese language and linguistics. She published the research paper "An Inter-tonal Effect in Second Language Chinese Contour Tones" in the book Learning and Teaching Chinese as a Second Language, published by Routledge.
Phyllis Zhang published an article and a book chapter on technology and Chinese language proficiency development. Her article, "New era and new goals: The college-level L2 Chinese instruction in the U.S.," appeared in Journal of International Chinese Teaching and Research (2018). Her book chapter, "Web-based instructional design and strategies: L2 Chinese blog writing," appeared in Research on Technology-Enhanced L2 Chinese Instruction (The Commercial Press, 2019).
Chen Yang delivered a presentation on the "Special Characteristics of Teaching Chinese Abroad," at the Fifth Chinese Teaching Conference. Chen also participated in the week-long 34th National Leadership Training Program of Federal Asian Pacific American Council (FAPAC) in Huntsville, Alabama.
---
Class Notes
Peter Bazos, BA '01, married Johanna Anchundia in Quito, Ecuador, in August 2019. The couple resides in Manhattan. He is the general counsel of Southern Star Shipping. Ms. Anchundia works as an executive recruiter at BlackRock.  
Tyler DiMicco, BA '11, is head of international project management at ByteDance, the world's most valuable start-up and the parent company of TikTok. He lives in Beijing with his wife, Sherry, and his cat, Momo.  
Sai-Kit Lee, BA '19, is a campus staff worker with InterVarsity Christian Fellowship at the University of Houston.  
Natasha Little, BA '10, joined the Maureen and Mike Mansfield Foundation as a program manager. Her portfolio includes the U.S.-Japan Space Forum, a U.S.-Japan-South Korea trilateral dialogue on nuclear spent fuel strategies and the Mansfield-Luce Asia Scholars Network.  
Richard Pegg, MA '90, published the articles "Early Edo Maritime Trade: Maps and Red Seal Ships" in Orientations magazine and "The Star Charts of Ignatius Kogler (1680-1746) in the Korean Court" in the Journal of Jesuit Studies.
---
Donor Recognition
THANK YOU FOR YOUR SUPPORT!
The East Asian Languages and Literatures Department would like to gratefully acknowledge the following generous donors who made a gift to the department from July 1, 2018 – June 30, 2019.
+ Faculty/Staff | # Parent | ~ Student | * Friend
Alison Alvarez, BA '03
Carol Balding #
Michael Balding #
Jordyn Cosme, BA '06
Ian Everhart, BA '14
Shoko Hamano +
Synja Kim *
Clark Munson, BA '03
Todd Platek, BA '74
Morgan Rana, BBA '16
Trevor Robbins, BA '12
Yuan Xue, BA '19